Image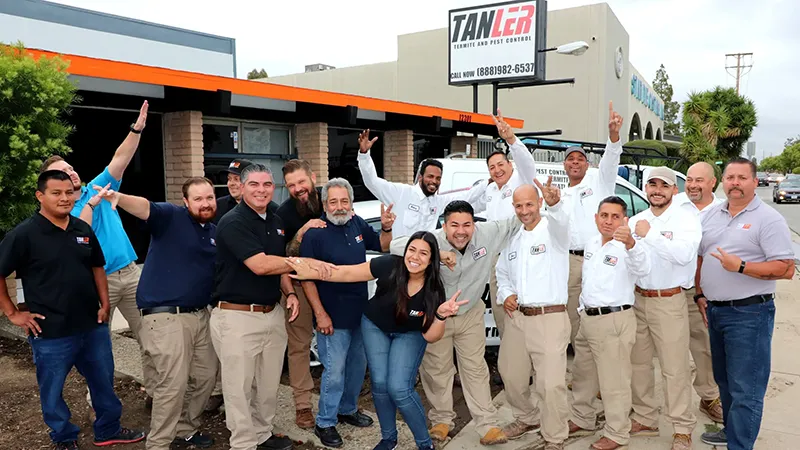 The Tanler Team
Tanler Termite and Pest Control was started in 2010 by owners Daisy Cevallos and Manny Lerma. Daisy is a mother of three and is a licensed Real Estate Agent, a Branch III Field Representative with the Structural Pest Control Board, and a Licensed Insurance Agent. Manny has been in the industry since 1996 and is a Licensed Branch II / Branch III Field Representative Operator with the Structural Pest Control Board and has worked in Oregon, Washington, and California. He is a father of three and a disaster relief volunteer with Team Rubicon. From its inception, our motto has been "Where We Put People Before Pests".
Our C.E.O. John Beltran is a Marine Corps Veteran and sits on the Board of the San Gabriel Valley Veteran's Employment Committee as the Vice-President, volunteer with Team Rubicon, and he is also a member of the American Legion Post 299 and is a Licensed Branch III Field Representative with the Structural Pest Control Board, Emergency Medical Technician Licensed with the State of California, and Certified Emergency Medical Telecommunicator Instructor with the International Academies of Emergency Dispatch. 
Tanler continues to work to employ veterans returning to civilian life and has made its GOAL to employ veterans.  To date, we have hired five Marine Corps Veterans, one Navy Veteran, and one Army Veteran.  We understand that being a small business we must do as much as possible to employ those who have Protected Our Freedoms from harm's way. 
In 2018 Tanler Termite was awarded the Employer Support of the Guard and Reserve "California Committee Award for Outstanding Performance", "Veteran's Employer of the Year" and a "Certificate of Appreciation.  We sponsor local High School Athletic Programs within our service area, in addition to sponsorship to up-and-coming Boxers and MMA fighters.
We believe in community involvement and strive to help Athletic Programs to build strong community leaders. Currently, Tanler has a combined experience of 150+ years of providing exceptional service to our clients.  
In 2016 Tanler Termite and Pest Control was the exclusive Pest Control contract for the Los Angeles Angels Baseball Stadium. In 2022 the stadium was recognized Major League Baseball as one of the cleanest stadiums, we have developed a strong partnership with Angels Baseball and continue to provide quality service to Angels as the exclusive pest control contractor.
Our Mission
At Tanler Termite and Pest Control, it is our mission and our passion to provide excellent pest control throughout the greater Los Angeles area and Orange County. We are a locally-owned company so the comfort and safety of your family is especially important to us.
We appreciate that maintaining a healthy home environment is essential. That's why we specialize in green pest control methods that utilize the most advanced techniques so that our treatments are both minimally intrusive and environmentally conscious. We believe that keeping your family, children, pets and even plants safe is a crucial part of what we do as pest control specialists.
Exclusive Pest Control Provider For The Los Angeles Angels!
Image